Eight year old Tiffany has a zest for life and a passion for dancing, cheerleading, acting and modelling. To support these activities, she wears her 3D printed leg braces at night which prevent her joints from swelling and dislocating.
"I'm in three different cheerleading groups, where you do cartwheels, back walkovers and back bends and I'm aiming for level three now," says Tiffany.
Lisa Dodds, Orthotics Clinical Lead, says that one of the factors that impacted Tiffany in her old orthotics was that they would get hot and sweaty, so there was a need for new ones that would alleviate this issue.
"I've been seeing Tiffany for quite a few years and she has some cool goals around being active," says Lisa.
"Tiffany loves to dance and she loves to cheer and I really enjoy watching her videos that she puts together."
Lisa and Tiffany are working together to reach Tiffany's ultimate goal, which is to no longer have to use leg braces during the day or night.
The main difference between the 3D printed orthotics and the traditionally made ones is the ability to make them lightweight and cooler with more air flow around the skin.
"Tiffany's knees and other joints constantly dislocate and move out of alignment which gives her a great deal of pain and swelling," says Lisa.
"The Knee Orthotics and the Knee Ankle Foot Orthotics keep her knees and feet in the correct alignment and stop pain and swelling."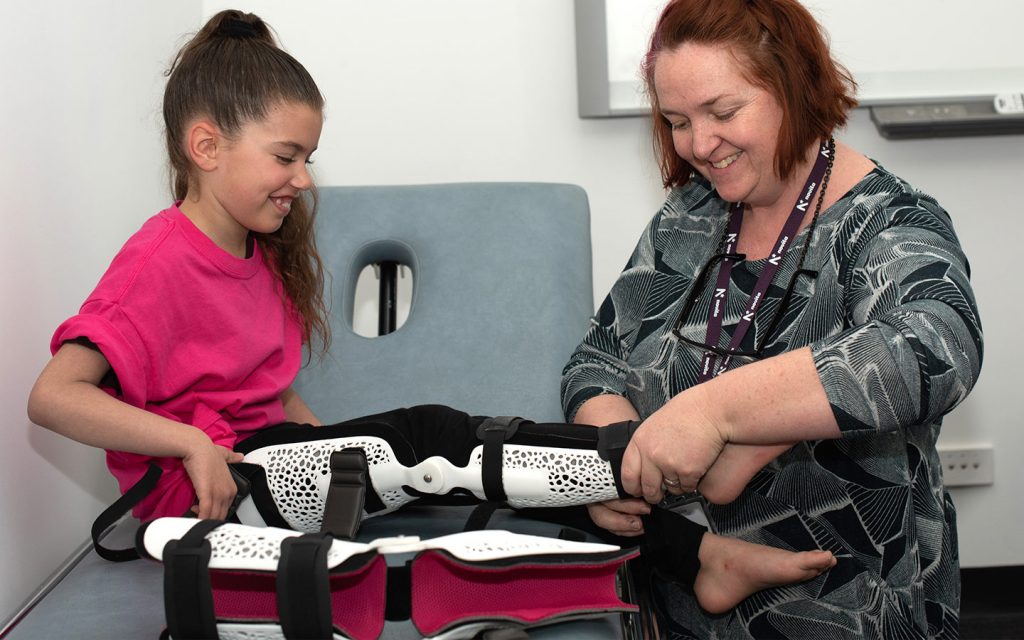 The long term aim is to build the muscle strength so that it helps hold the joints in correct alignment and they won't need bracing any more.
"I always get great satisfaction through my job being able to help people to achieve their goals, especially when someone does use their appliance to the max like Tiffany," says Lisa.
Aside from the 3D printed orthotics that Tiffany wears at night, she also wears her traditional orthotics during activities, including dance and cheerleading, to provide her with external control for her joints.
Tiffany is a hard worker and has made excellent progress over the years that she has been receiving therapy and services from Novita and Novitatech.
"Tiffany is definitely someone who brings joy to my day, we like to joke around together, so we make a really good pair," says Lisa.
"We're really excited about 3D printed orthotics, especially in paediatric orthotics; we feel that it's the direction we need to take."
If you would like to learn more about the innovative new assistive technology available through Novitatech, you can call us directly on 1300 668 482 or email us at services@novita.org.au