Blog
Novita's orthotics technician Jono is supporting clients to reach their mobility goals
Jono has a degree in Bio Medical Engineering from Sydney University, which has supported him to gain employment in the orthotics and prosthetics field.
3 mins
Being an orthotics technician is a niche job, but also a rewarding role that plays a pivotal part in Novitatech clients being able to reach their goals with the high quality, innovative technology that is constantly developing and improving in the orthotics field.
Orthotics are required when clients present with muscles or bone structures which require extra support so that movement can occur easily and a common way to provide this is with external support in the form of orthotics.
Beginning with the Novitatech team in November 2019, Jono Marsh has a degree in Bio Medical Engineering from Sydney University, which has supported him to gain employment in the orthotics and prosthetics field.
"I make all sorts of orthotics ranging from ankle, foot, up to knee," says Jono.
"The whole process involves working collaboratively with the orthotists, who use the 3D scanners to create the orthotics design and then we outsource the calf portion. The client will choose the colours and materials that they want and then we mould up the plastic and cut it away to get the desired result.
"The orthotic is then smoothed and we add the appropriate wedging to make sure that the angle is correct, then we strap it up and the orthotists fit it for the client."
Novitatech is one of the few organisations that has the capacity to make orthotics onsite and this service is a great part of the holistic therapy service model that supports clients and their variety of needs.
"I really enjoy doing the work and seeing results, and getting the feedback from the clients and orthotists about the difference our orthotics are making to people's lives is so rewarding," says Jono.
Jono and the orthotics team also support one of Novita's Transition to Work Program participants, Riley, to develop the skills needed to turn dreams of working with prosthetics into a reality.
Riley lives with Asperger's syndrome and has been assisting Jono three days a week since February  2020, undertaking varying tasks including keeping the workshop tidy and safe, cutting sheets of plastic, working on transfer papers and carving out moulds.
"I want to get into prosthetics as a career path, so working with Jono in the Novitatech orthotics workshop has been good for that – I'm not sure if I want to work in design or the actual construction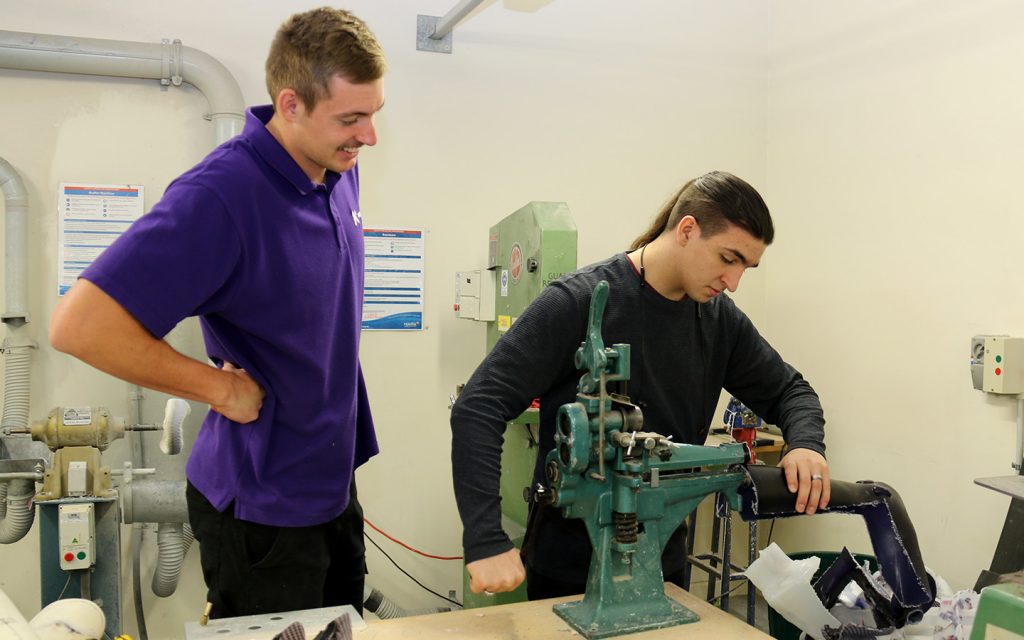 Riley is going from strength to strength in the Transition to Work program and is continuing to develop technical skills, whilst also improving their communication abilities and gaining valuable work experience to support future career aspirations.
Jono is always looking for ways to improve his craft and technical skill set so that clients are able to get the best results from the work that goes into the orthotics, whilst also being able to use this knowledge to support Riley's own career ambitions.
"There is a virtual conference coming up that I'm looking forward to," says Jono.
"It will be good to see what new innovations there are in the technology space and see where I can adapt them into my work, as well learning more about new 3D printing innovations, which is something the team is excited to learn more about."
If you would like to find out more about Novita or Novitatech services, you can call one of our friendly staff on 1300 668 482 or email us directly services@novita.org.au