Adaptive clothing and shoes are designed to make life easier for people who may experience difficulties dressing due to disability, ageing or health conditions.
We break down everything you need to know about adaptive clothing and shoes, to help you choose what's right for you.
Adaptive Clothing
Adaptive clothing is designed with subtle additions or modifications to allow the wearer to put it on or take it off more easily.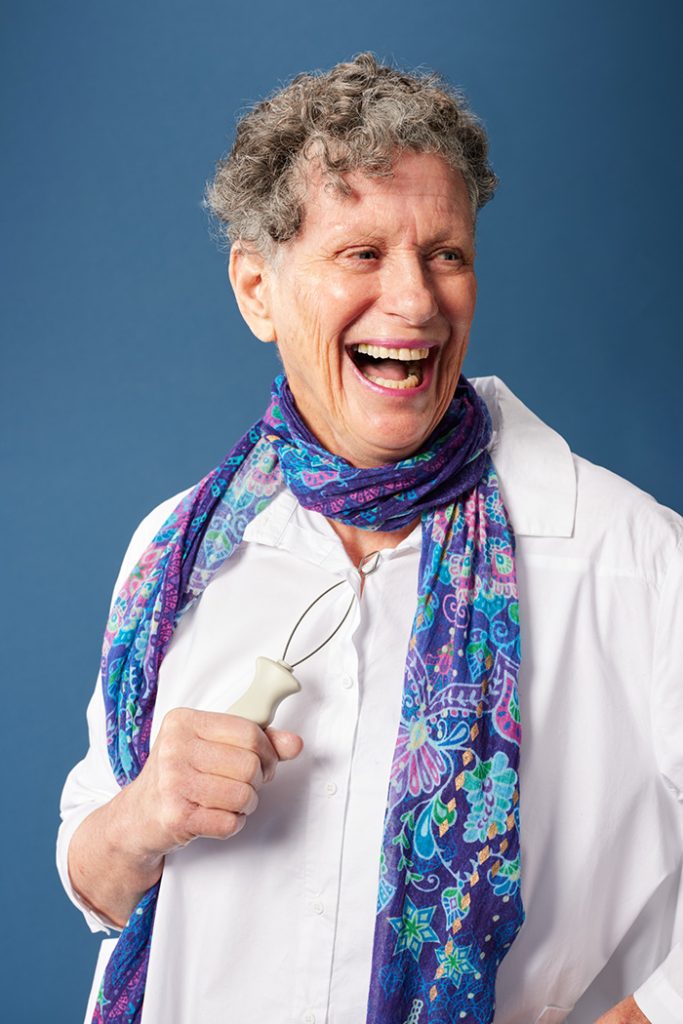 Ease of Dressing
Here are some clothing features and accessories that can make it easier to get dressed
Side buttons for easy access.
Elasticated waists are great for everybody and they're especially comfortable and convenient for those with limited mobility. No need for any closures, like buttons or zips, when pants are elasticised – and they also ensure that the pants can accommodate any swelling or weight fluctuations.
Pull over the top designs, where the fabric is stretchy and buttons are not needed.
Wider necklines and armholes. This can benefit someone who has reduced strength, tight arm muscles or limited arm or shoulder mobility as the result of a condition such as cerebral palsy.
Overlapping fabric panels placed in strategic areas that offer modesty while still providing easy dressing, as well as access to catheters and other medical devices. The panels may be held in place by Velcro and other fasteners and the opening may go partway or all the way down the garment.
Shoe horns and sock and stocking aids make for easier reaching and sliding into shoes and socks.
Dressing sticks can be used to pull on or push up garments that cannot be reached easily.
A button hook which assists one handed dressing by passing through the button hole and over the button to grip the thread. It is pulled through with a twisting motion.
Easy Closures
Look out for clothing that closes easily. Easy closures make clothing easier to put on and take off but they also allow for more comfort. Features such as chunky metal zippers and binding waistbands can make clothes feel uncomfortable. Elastic waistbands, seam-free clothing and magnetic closures improve comfort.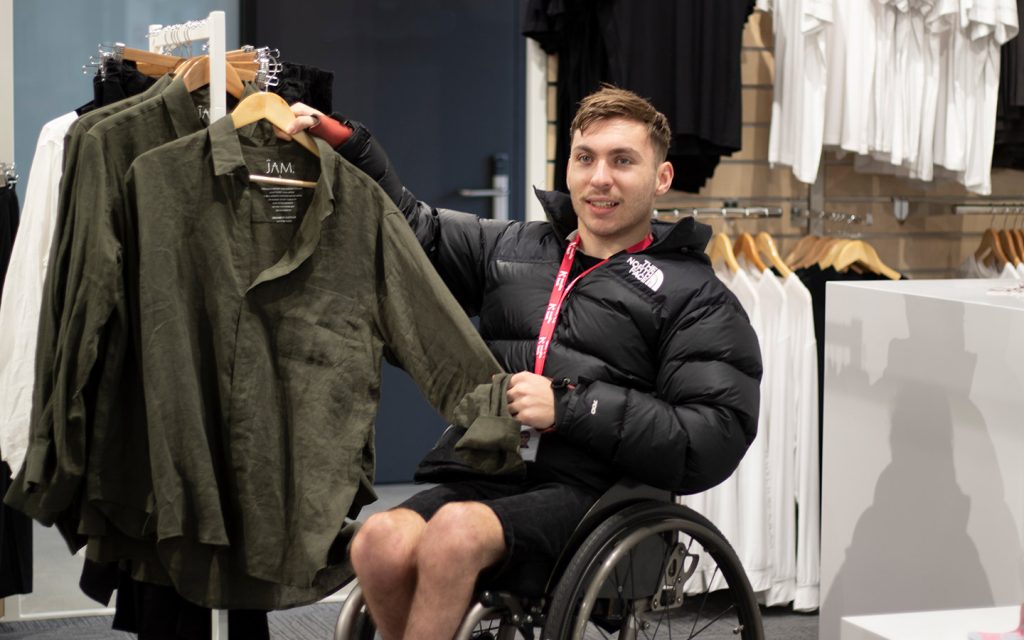 Fabric
We love a bit of bamboo – extra soft and comfortable plus it's a sustainable source. For those with sensory differences, wearing comfortable clothing can make such a difference to daily life. Bamboo has a tonne of other benefits, such as being hypoallergenic, moisture wicking, anti-bacterial and breathable. It's also thermo-regulating, helpful for people who overheat easily or feel the cold. We stock Jam the Label tops in the NovitaTech assistive technology store, which are made of 95% bamboo and 5% elastane. The elastane gives the tops fabulous stretch, which is great for getting clothes on quickly and easily. It minimises the stress of trying to manoeuvre sleeves and necklines around arms and heads or potential of damaging the top.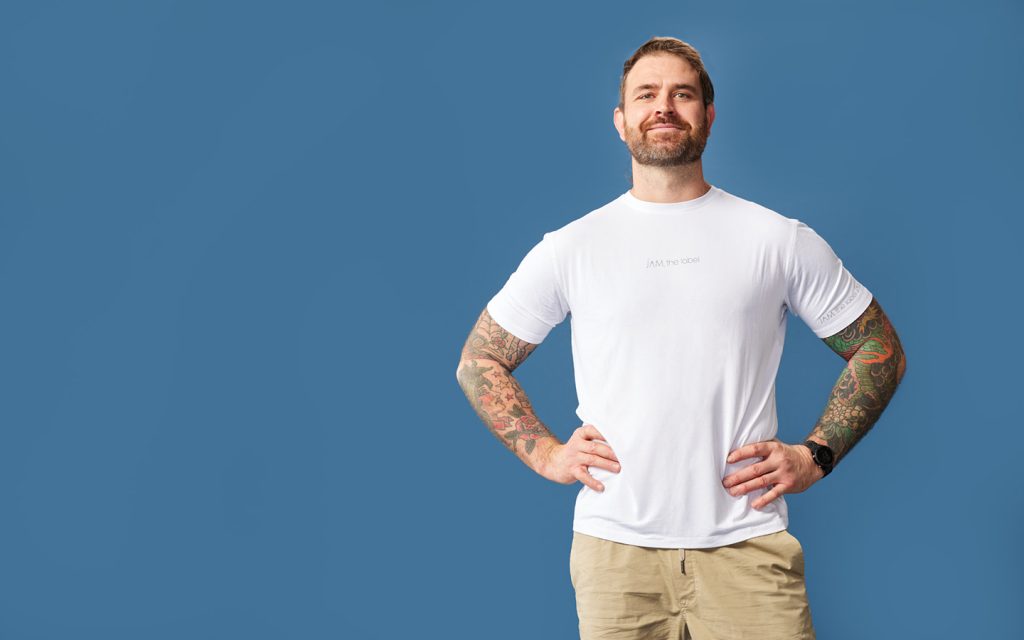 Other bits and bobs to consider
Do the clothes have seams and tags? Bonus points for comfort if the answer is "no"!
Buttons and zips can complete the look on a pair of pants but it can be tricky to manage. Adaptive pants can come with a fake fly and non-functional button so you can get the look without the hassle.
A drop crotch can provide discretion when continence aids are used and also allow for comfort in a seated position.
Get it right on the button – front access via large buttons that are easily manipulated can be handy for those who get dressed lying down or need quick access to continence aids.
Pants often pull down in the back when you sit, which can be uncomfortable for people who spend much of the day in a seated position. Adaptive pants are often designed so that the back rises higher than the front, ensuring the wearers get enough coverage.
Footwear and Accessories for Happy Feet
What we put on our feet is so important to overall body comfort and health and, fortunately, there are many types of shoes with different features that can provide the right support.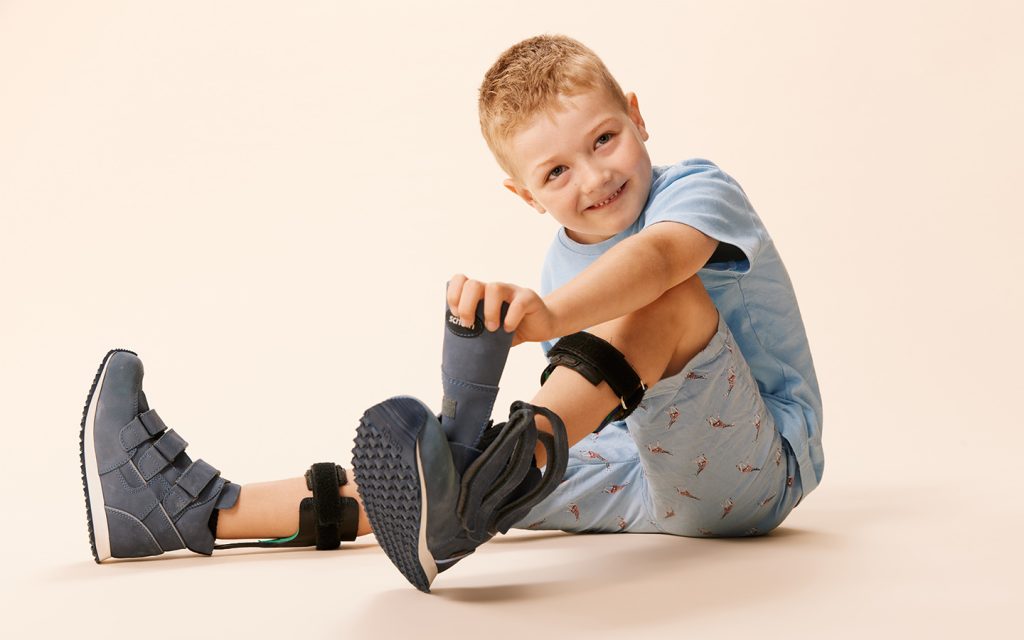 Shoes
Here are some types of shoes to look out for:
Orthotic shoes are designed for an optimum fit for the foot, orthosis and therapeutic shoe. It's important that the orthotic shoe is easy to put on and take off. Features that can help include a flexible, raised back for a good hold, a slip-in loop and construction that allows the whole shoe to be opened up very wide. Many orthotic shoes have a fashionable design (such as high tops and on-trend colours) that resemble regular shoes.
These are shoes made especially for orthotics that offer additional support.
Shoes that are made to slide your foot into from a standing position, without the need to bend over. No hands, tying or pulling required!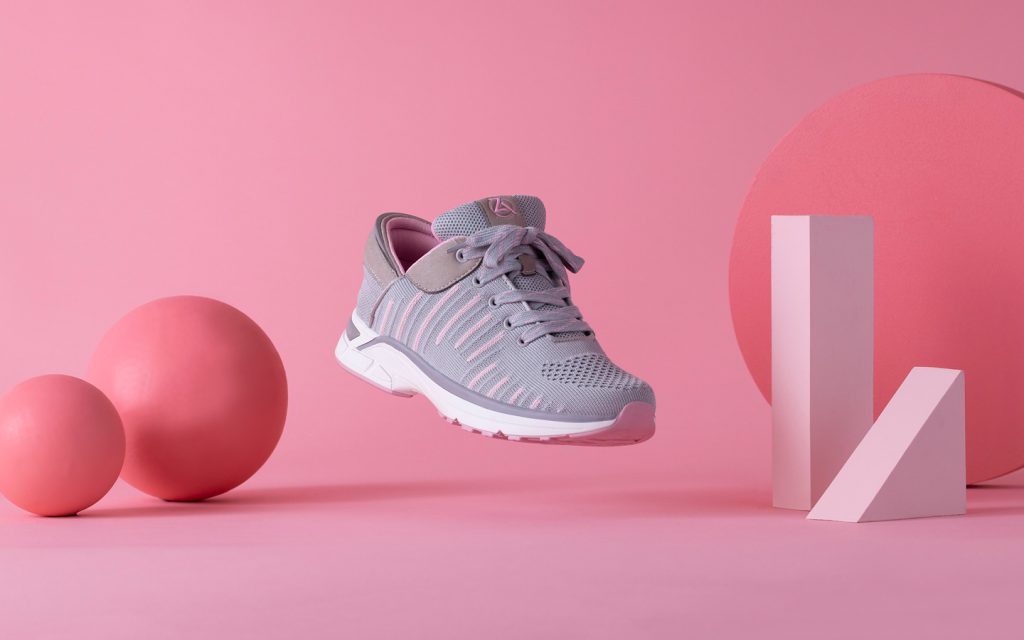 Accessories
There are specific footwear accessories that can support your comfort and safety, including:
Toe Separators
These protect against friction by adding another layer of protection to help maintain skin integrity.
Gel Toe Sleeves
Stretch easily over the toe for added protection and to relieve pressure caused by shoes and adjacent toes.
Magnetic Shoelaces
An ideal substitute for kids and adults who can't tie their shoelaces or don't have the time.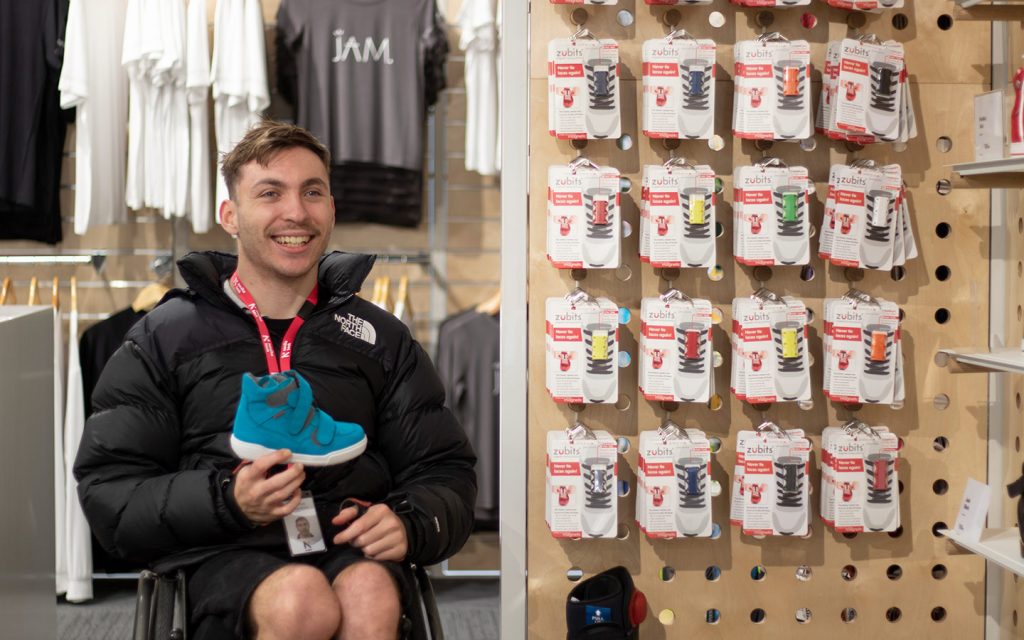 Socks
There are different types of socks to support different needs, including:
Thermal socks
There are some great socks for use during the day and at bedtime that are designed for thermal benefits – so they keep your feet nice and warm – but are not too tight and restrictive, to help support blood flow and circulation.
These are anti-slip socks, which can be helpful with transfers and for people who are a bit unstable on their feet.
To support enhanced blood flow and circulation and increase recovery.
Provide mild compression and warmth and may help increase circulation, reduce pain and promote healing.
Ask Brodie
Brodie Healy is a team member at the NovitaTech assistive technology store in Hindmarsh, Adelaide. Brodie has lived experience with disability and has tried out a lot of adaptive clothing, in addition to mobility and independent daily living equipment. While everyone's different in their experiences, thoughts and ideas, Brodie is happy to share his thoughts on any questions you may have.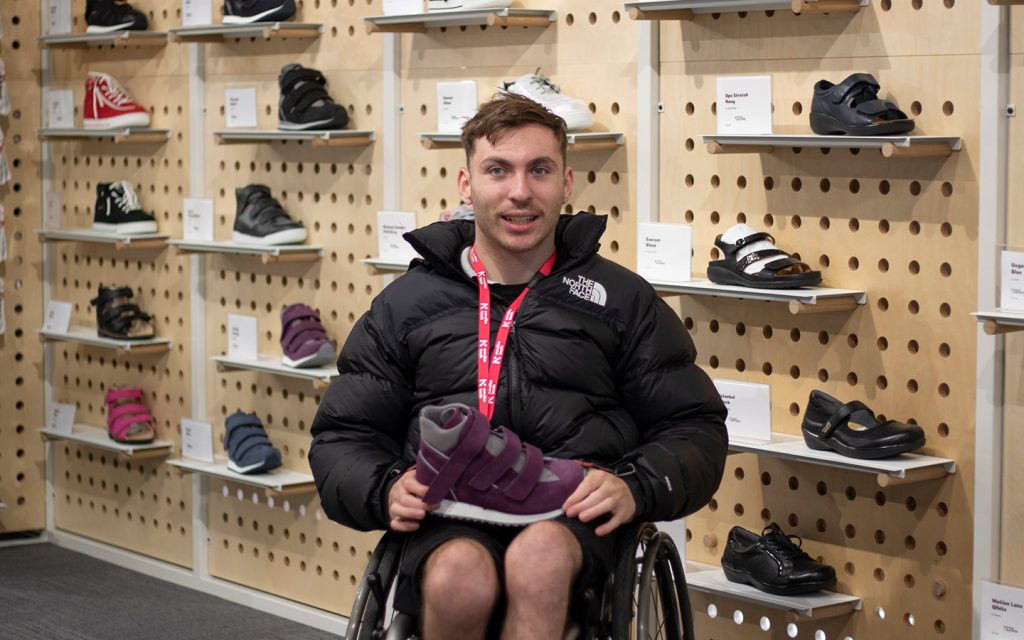 Come and see us
The new NovitaTech assistive technology store has a range of adaptive clothing and footwear that is not only functional but stylish too! Come into our store at 31 Manton Street, Hindmarsh, opposite Coopers Stadium.
Online Shop