Helpful Information
Design benefits of Novitatech's Test Lab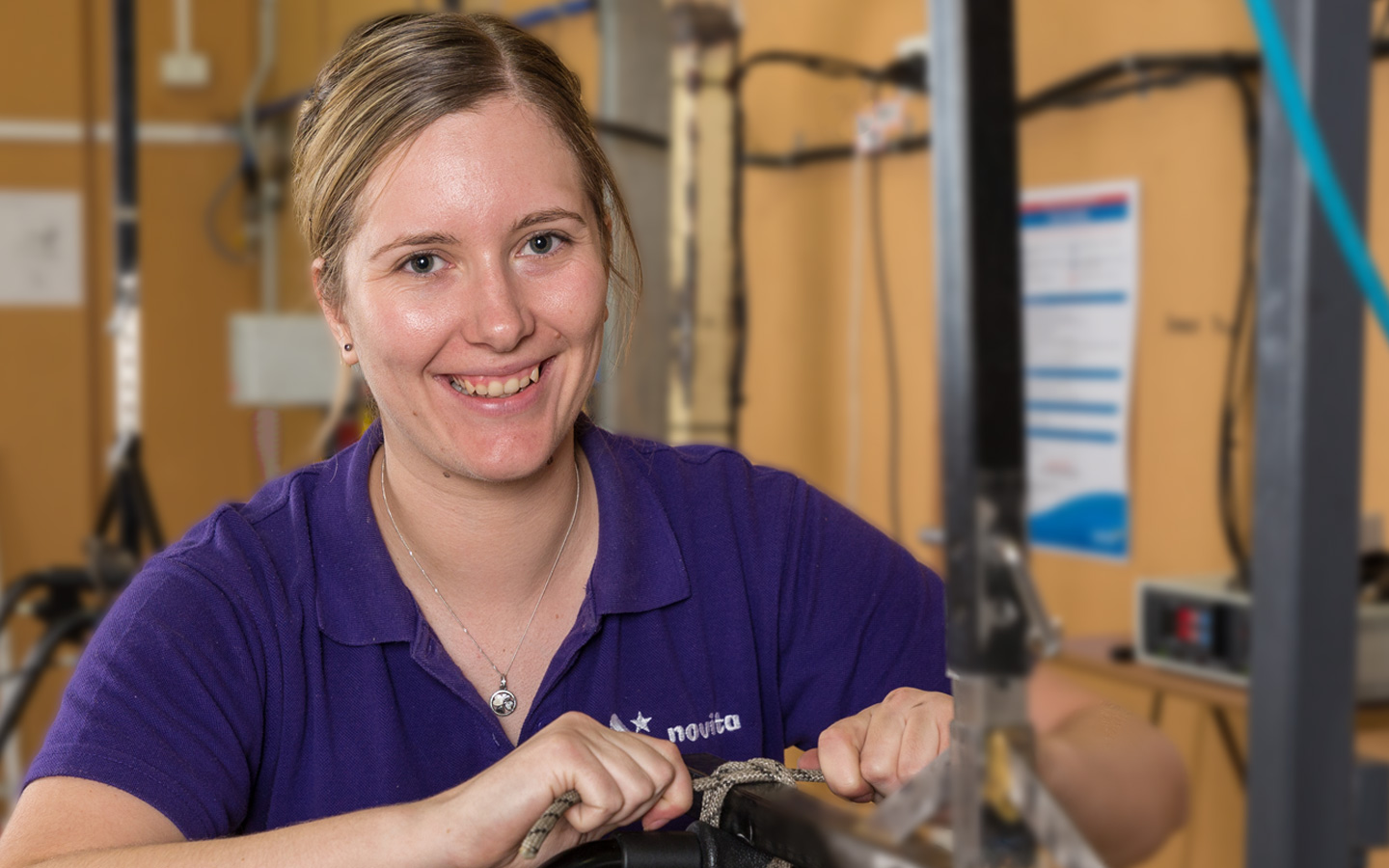 Testing new products for people living with disability at Novitatech's Adelaide-based Test Lab can prevent design headaches – and save a lot of money – for manufacturers.
The Test Lab is the only facility of its kind in Australia accredited by Australia's National Association of Testing Authorities (NATA), and has been testing medical and disability products to Australian and international standards for manufacturers and suppliers for 30 years.
The experience and skills of the Test Lab have helped manufacturers around the world to solve problems and issues with new designs and products before they go into production, ensuring safe and durable equipment for people living with disability, and cost-effective processes for manufacturers.
Novitatech Biomedical Engineer Leonie Rich-Perrett says one of the regular issues encountered by the Test Lab is product designs being unable to withstand their recommended user weight for the life expectancy of the product – which has been seen across the entire range of weight bearing products in the test lab scope.
"We've had suppliers and manufacturers send us products that are meant for a particular user weight, but our static strength and durability testing has shown that they can't hold that weight – especially as more companies enter the bariatric (causes, prevention and treatment of obesity) market," she says.
"It's a great example of the vital role the Novitatech Test Lab can play in the design process. From our testing we are able to identify for manufacturers and suppliers which areas of their designs need improvement to meet their desired user weight.
"Many of the manufacturers and suppliers we work with come back to us with new versions of their designs and products so that we can test them again and hopefully give them our tick of approval."
The recent addition of Leonie to the Novitatech Test Lab team, which also includes Senior Test Technician Wayne Wurfel, means the facility will be expanding its capacity to accept even more designs and products for testing.
Wayne says the test Lab has pioneered a range of testing methods, and has maintained the critical NATA accreditation allowing the Lab to cover a wide range of medical and disability products.
"We work directly with the manufacturers to test their equipment and give it certification to an Australian or international standard, and we work with suppliers who import and on-sell disability products here in Australia," he says
"We're accredited with NATA for specific items of disability and rehabilitation equipment, but we can also test anything out of our accreditation scope to Australian standards, with the only condition being that we can't put the NATA stamp on our report," he says
"An example of this is that we have done comparison testing for companies wanting to see the difference in quality of their product design when produced by various external manufacturers – this is a service our customers may not know we offer.
"Manufacturers and suppliers, along with people living with disability, can have confidence that our expertise as an accredited testing facility and the methods that we use will deliver satisfactory outcomes for them."