Helpful Information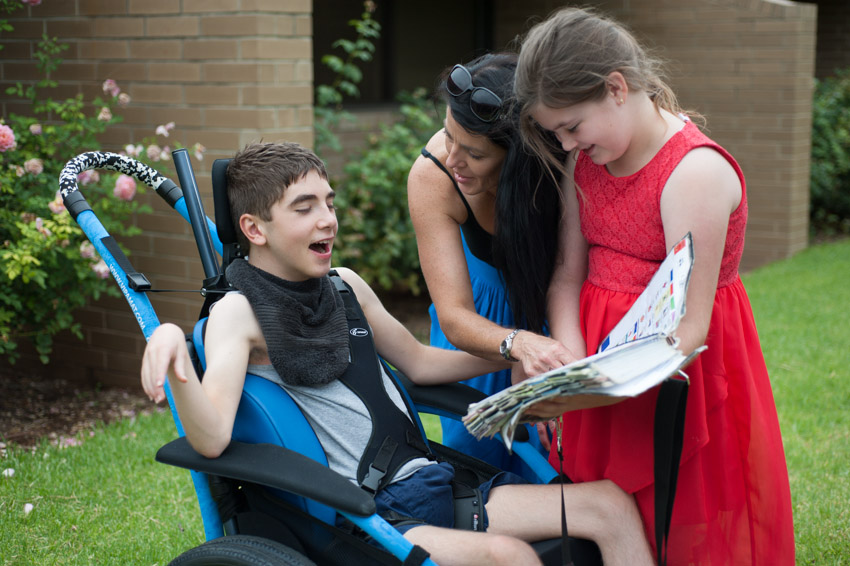 PODD – or Pragmatic Organisation Dynamic Display – is an effective tool for people living with disability to communicate with their family, friends, therapists, and the world around them.
PODD is a form of assistive technology that organises words and symbols into a book or speech-generating device which enable people with complex communication needs to communicate a range of messages across a variety of topics in multiple environments.
They can be personalised and adjusted to suit people of all ages and the selection of words or phrases in a PODD book or device can be made by pointing, looking, or other combinations of movement.
PODDs can also be used as a learning tool, supporting your understanding of the spoken language being used by other people such as a family member, friend or therapist.
While some communication aids focus on a specific activity or purpose, the advantage of using a PODD book or device is that you can use it all the time, across all the different environments, messages, conversations and topics you're likely to come across during your everyday life.
Choosing the right PODD
Everyone has different communication preferences and abilities, and there are many different types of PODDs, so the one you use will depend on your communication needs.
Novitatech's speech pathologists and technicians have extensive experience and training in developing and using PODD books and devices, and they will work with you and your family to make sure the PODD you use meets your communication needs and goals.
PODD is usually part of a broader communication strategy for people with complex communication needs, and so our team will work with you on the best strategies for your individual needs and the different communication situations you'll encounter.
An assessment is an important part of the process, with a number of factors taken into consideration including your current communication skills, your physical access methods and motor skills, your mobility, any sensory processing challenges that you may have, and your functional vision and hearing. We'll also include input from your family members, teachers, support workers and your therapists in this assessment.
We'll usually give you the opportunity to trial some different PODD books and devices, and once we've settled on the best one that suits you, we can customise it for you, including adding extra vocabulary.
And, the Novitatech team will also provide ongoing training and practice at using your PODD book or device.