Twenty-two year old university student Josh has his eye on the future and it's looking very bright. This creative and sporty young man is studying a Bachelor of Television and Film, focusing on the VFX (Visual Effects) side of the course, saying "I love the idea of creating something that's not real and turning it into a reality through technology. I also like the idea of contributing to a big film someday. I also just love studying films in general, I enjoy being inspired by all sorts of new films to create something of my own."
Josh lives with Arthrogryposis Multiplex Congenita, a rare condition that affects the joints in his body. He likes to keep active and enjoys lots of different activities, including powered wheelchair football, and has used KAFOs (Knee Ankle Foot Orthoses) for most of his life to support his mobility.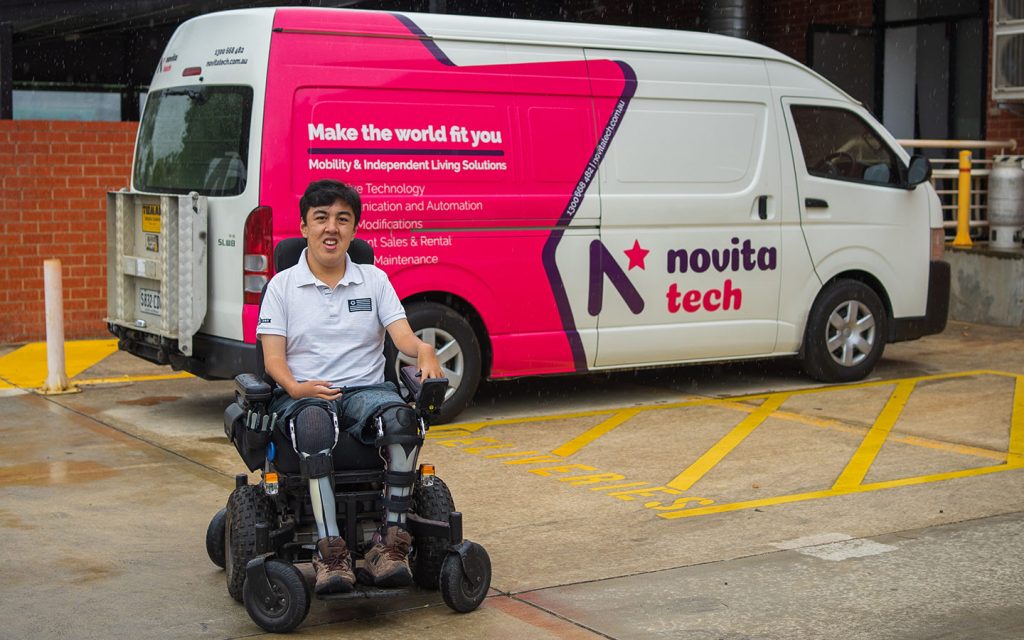 KAFOs assist with stabilising the knee, ankle and foot, allowing for function and movement. Josh's original KAFOs were made of thermoplastic, whereas he now has new ones that are made of Prepeg Carbon Fibre Laminate in the back thigh and foot section of the KAFOs. The thermoplastic KAFOs were heavier and lost their shape quickly with Josh's activity level.
It's a whole new ballgame now, as Carbon Fibre is a very strong and lightweight material that can be molded around curves, yet still holds its strength and shape. This state-of-the-art material, combined with free range and locked knee joints, helps align his joints to gain stability and protection when walking.
Josh is thrilled with the new KAFOs, saying "I love my KAFOs. They give me the ability to walk short distances and move around when needed. All throughout my childhood, my KAFOs have let me be included in numerous activities that wouldn't have been possible, so I thank my KAFOs for getting me there." Josh speaks about the KAFOs as being crucial to his identity, saying "I like the idea of thinking of it as some sort of armour I wear everyday so growing up I'd joke about that with my friends."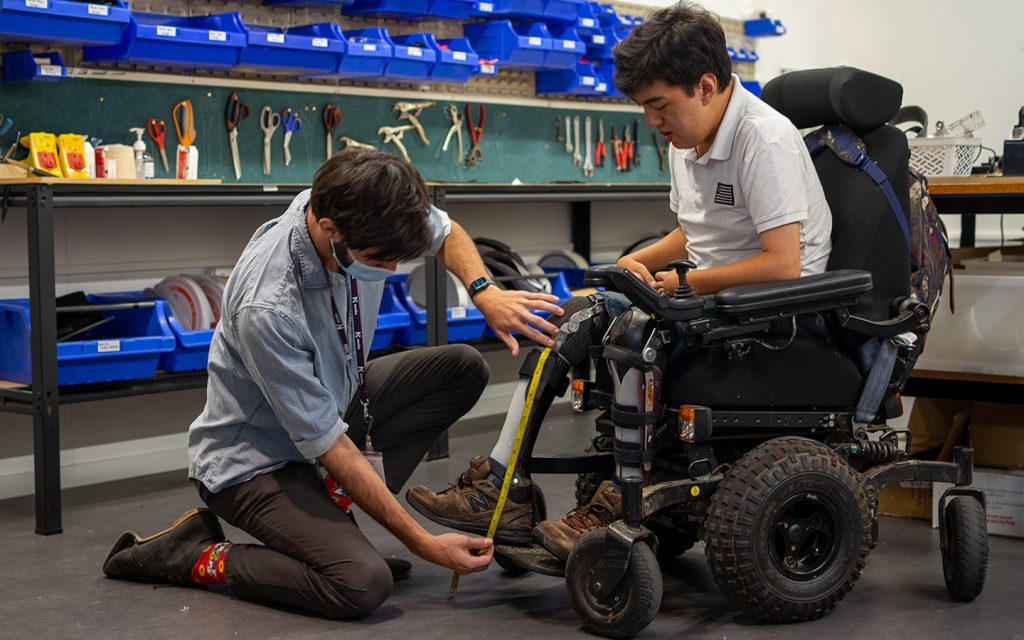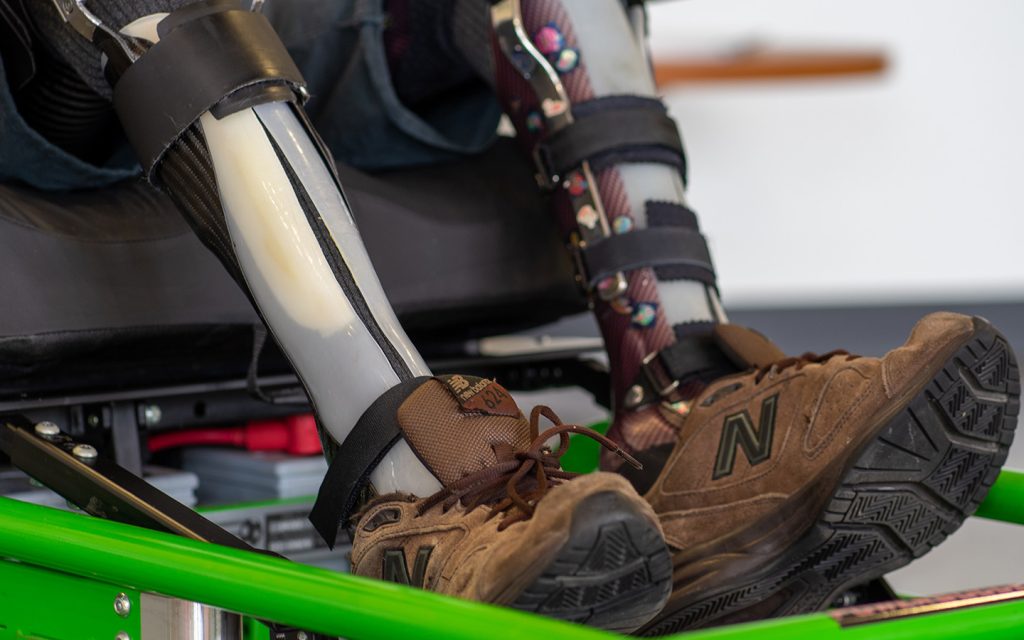 NovitaTech Manager – Orthotics, Rebecca Kelly, is delighted that Josh now has the new lightweight, strong KAFOs that suit his active lifestyle so well, commenting "The excitement in Josh's face when he felt the difference in weight between his new and old KAFO's gave his orthotist such a sense of achievement. Often there are compromises in orthotic treatment, weight frequently being one of them – but not for Josh anymore! It's a pleasure for our team to explore new technologies with clients to ensure we are meeting their lifestyle requirements."
Powerchair football is played in specialised electric wheelchairs, called powerchairs. Each powerchair must have four or more wheels, at least one belt and a foot guard. The powerchair specifications are dependent on the needs of the player. Players use the foot guard to kick and block an over-sized soccer ball, which is 33cm in diameter. There are four players on each team, including the goalkeeper. The 40-minute game is split into 20-minute halves, with a 10-minute half time break. A goal is scored when the ball fully enters the opposition's goal area. The game is won by the team who scores the most goals.
Of his favourite game, Josh says "It is a great way for me to keep fit. I also really like the social and community aspect of the game".
So, what are Josh's goals and ambitions for the future? He has a lot of fantastic ideas on the go, including opening up an art studio of his own to give him the necessary space and equipment to continue making art in different and new mediums of self-expression. Then there's his goal to create a film of his own someday: "It's a long way from becoming a reality but I'm eager for the journey to that goal", Josh reflects. Teaching is another field that Josh is interested in. He likes the thought of passing on his passion for the arts to future generations. Living independently, with support, is also a big goal of Josh's and he can see it happening in the not-too-distant future.
Then there's hopefully overseas travel to come down the track. Josh would particularly like to visit Japan and Korea as he loves the music from both countries, he has heard that the access in those countries is very friendly and he and his mum, Mercy, share a love of Korean dramas.
Josh also has various hobbies, including going through artists' discographies and discussing them with his friends and others who follow similar bands. He says "There's a whole community that supports every band and I love the diversity of people within each community." He creates all sorts of art, including his own music and photography, saying "I enjoy anything that lets me tell a story through art. Each of these hobbies are super engaging and also satisfying when it all comes together."
Josh has a lot of exciting plans and he is determined to make them a reality. We're really looking forward to seeing the output of his artistic endeavours in time to come!
More About Orthotics and Mobility
Get in touch with us
At NovitaTech we have a team of friendly, highly trained orthotists and mobility specialists who will assess your needs to prescribe, make and fit the right type of devices. They work closely with clients of all ages and with your family and allied health professionals as needed, to make sure you get the best treatment.
Our specialists are dedicated to providing a high quality, timely service using the latest technology, with on-site rooms and fully equipped workshops at 1 South Road, Thebarton and the new Assistive Technology store and therapy location at 31 Manton Road, Hindmarsh, South Australia.
If you would like more information, or to book a consultation, call our friendly NovitaTech team on 1300 668 482 or fill out an enquiry form.